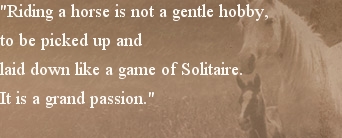 INTRODUCING:  TUCKER  Trail Saddles from the Equitation Endurance, Plantation, NOW Featuring the Exclusive SUMMIT Tucker ultimate endurance Trail Saddl

In Addition to the Tucker Equitation Endurance, Plantation or Western Style Trail Comfort Saddlery; You will find Circle Y Flex 2 Trail, Gaited, & Flex 2 Barrel, and All Around Saddles, as well as High Horse Barrel and Cordura Saddles; 

Special Orders Always available, also products from Big Horn, Billy Cook, Tex Tan, American Saddlery and Dakota, all offering a complete line of Trail, Cordura, Pleasure to Roping Saddles to meet your Riding Needs!  We also offer Basic Starter saddles, and special order Abetta synthetic saddles.

     Remember We Can Special Order or semi-custom order a Saddle for you.  Take the guessing out of mail order.

     Always a nice variety of used saddles also in stock.

Saddle Fittings also available.

Complete line of Western headstalls, reins, bits, pads and additional accessories.

       CIRCLE Y & TUCKER SADDLES


Double click here to add text.

Double click here to add text.